Soil Safe Awards Scholarships to Carteret High School Graduates
Soil Safe is proud to announce the two recipients of the annual scholarship to graduating seniors at Carteret High School.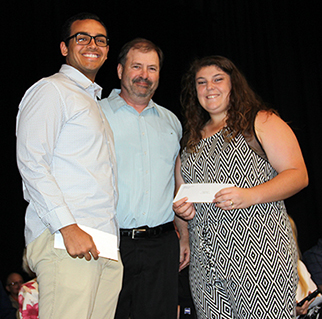 Nicole Casale and Jonah Alamo have each received a $500 scholarship toward their studies in college. Peter Anthony, a manager of the Soil Safe facility in Carteret, presented the scholarships in May during the senior awards ceremony.
Nicole will be attending Fairleigh Dickinson University in the fall, where she will be studying math. Nicole has been tremendously successful at Carteret High, graduating seventh in a class of 283 students. She was named to the National Honor Society and has taken numerous honors classes.
In addition, Nicole was heavily involved with the Boys and Girls Club and softball, as well as working on an after-school care program for children whose parents work late.
Jonah will be heading off to the Honors College at Rutgers University, as he pursues studies with the dreams of becoming a doctor. Jonah, with a 1380 SAT score, was accepted to 10 top colleges and universities, before deciding on the prestigious Honors College at Rutgers.
Jonah was the drum major for the Carteret High School marching band, a member of the National Honor Society and volunteered for many community events, such as Special Olympics and the borough's 9/11 memorial program.
Our best wishes to Nicole and Jonah on their academic journey.